Fluidized bed granulator is one of the commonly used processing equipment in the pharmaceutical industries. It is a multi-purpose equipment in that mixing, granulation and drying are all carried out in the same equipment. The equipment operates in a bubbling bed regime.
Parts of a fluidized bed granulator
The main parts of any fluidized bed granulator which may have different design options, following the direction of fluidization gas flow includes;
Gas plenum (Gas inlet chamber) which screws as the receiver for inlet fluidization air.
Gas distribution.
Product container.
An expanded chamber containing a set of filter bag in the expansion chamber.
Binders spray system which is usually characterized by one of four nozzle designs.
Nozzle designs of a fluidized bed granulator
i. Pressure nozzle – This type of nozzle breaks up fluid under pressure by its inherent instability and its impact on the atmosphere, one another jet or on a fixed plate.
ii. Rotating nozzle – This nozzle type is also known as rotary atomizer and it is used mainly in spray drying application.
iii. Airless spray nozzle – With this type of nozzle, the fluid is separated into two streams that are brought back together at the nozzle orifice, whereupon impingement form drops.
iv. Gas atomizing nozzle – This is equally known as two-fluid nozzle. With this nozzle, the binder solution (one fluid) is atomized by compressed air (the second fluid). It is the most commonly used nozzle for fluid bed granulation.
Factors that influence  spray nozzle selection
Different designs can be selected for individual main parts of a fluidized bed granulator and this depends on;
Processing option.
Mode of operation (batch or continuous).
Use of equipment.
Principle of processing.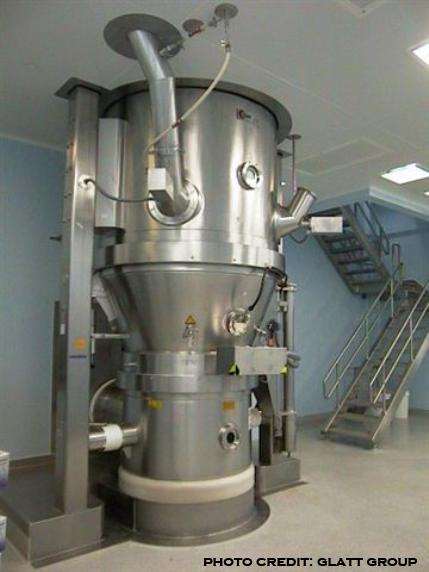 Conventional fluidized bed granulator can be operated depending on the position of the spray system in either "top" for top-spray fluidized bed granulator or "bottom" for bottom spray fluidized bed granulator.
Fluidized bed granulator, in general, is not different from industrial fluidized bed coating equipment except that the spraying zone occupies a large portion of the bed, and also gas velocities used are somewhat similar.
Granulation in a fluidized bed granulator is achieved by suspending the powder in the air of the fluidized bed and then spraying the binder solution from nozzles that are either positioned above or below the powder bed depending on the type of the granulator.
Advantages of Fluidized-Bed Granulator
1. Fluidized bed granulator is a one-unit system and thus saves labor cost, transfer loss, and time.
2. Heat transfer in fluidized bed granulator is 2 – 6 times greater than that generated by tray dryer.
3. The process can be automated once parameters are optimized.
4. Drying occurs uniformly and the process prevents mottling.
Disadvantages of Fluidized-Bed Granulator
1. It is practicable impossible to achieve the same degree of densification while using fluidized bed granulator in batch mode.
2. The equipment is characterized by long resident time.
3. There is need for relatively high amount of granulating liquid.
4. Fluidized bed granulator is expensive to acquire.
5. There is tendency of filter clocking, demising, electrostatic charge, and solvent explosion is high.
6. it also produces low-density granules.
References
Dilip M. Parikh (2010). Handbook of Pharmaceutical Granulation Technology, Third Edition. CRC Press, Taylor and Francis Group, LLC.
Gilbert, S. B and Christopher, T. R. (2003). Modern Pharmaceutics. CRC Press, Taylor and Francis Group, LLC.
Isaac, G.  and Charles, M. (2003). Pharmaceutical Extrusion Technology. Marcel Dekker, Inc., Basel, New York.
Jim Litster, and Bryan Ennis (2004). The Science and Engineering of Granulation Processes. Kluwer Academic Publishers, Dordrecht, Netherland.
Larry, L. A. and Stephen, W. H. (2008), Pharmaceutical Dosage Form: Tablet. CRC Press, Taylor and Francis Group, LLC.
Namdeo Shinde, Nagesh Aloorkar, Ajit Kulkarni, Bhaskar Bangar, Suyog Sulake, and Pratik Kumbhar (2014). Recent Advances in Granulation Techniques. Asian Journal of Pharmaceutical Sciences. 4(1): 38-47.