Hammer mill is the most widely used grinding mill and among the oldest. Hammer mills consist of a series of hammers (usually four or more) hinged on a central shaft and enclosed within a rigid metal case. It produces size reduction by impact.
The materials to be milled are struck by these rectangular pieces of hardened steel (ganged hammer) which rotates at high speed inside the chamber. These radically swinging hammers (from the rotating central shaft) move at a high angular velocity causing brittle fracture of the feed material.
Hammer mills crush materials into two (2) stages.
1. Size reduction which occurs by dynamic impact
2. Sizing which occurs by attrition and shear in the second zone where small clearance exists between the hammer and the screen bar producing a particle range of 15-50 µm.
The material is crushed or shattered by the repeated hammer impacts, collisions with the walls of the grinding chamber as well as particle-on-particles impacts. A screen is fitted at the bottom of the mill, which retains coarse materials while allowing the properly sized materials to pass as finished products.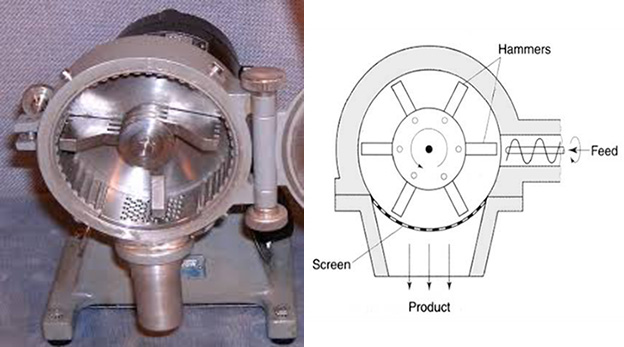 The targeted particle size can be controlled by factors such as;
a. Feed rate
b. Rotor speed/it velocity
c. Clearance between the hammer's and grinding plates
d. Hit resistance
e. The size of screen opening (determines the residual time of the material)
Classifications of hammer mills
Hammer mills are classified into
i. Reversible type of hammer mill
ii. Non-reversible type
The above subtype is based on the direction of the rotor (clockwise direction, anticlockwise directions or in both directions). Their working and grinding actions remain similar despite the fact that their construction differs in many respects.
Pharmaceutical uses of Hammer Mill
1. It is used in pharmaceutical industries to process wet or dry granulations and disperse powder mixtures.
2. It is used in milling pharmaceutical raw materials, herbal medicine, and sugar.
3. It is used in powdering of barks, leaves, and roots of medicinal plants.
4. It is applied in the milling of Active Pharmaceutical Ingredient (API), excipients, etc.
Advantages of Hammer Mill
1. It produces specified top size without the need for a closed-circuit crushing system.
2. It produces relatively numerous size distributions with a minimum of fines due to self-classification.
3. It has a high reduction ratio and high capacity whether used for primary, secondary or tertiary grinding.
4. Relatively reasonable energy requirements.
5. Brittle materials are best fractured by impact from blunt hammers.
6. It is capable of grinding many different types of materials
7. The machine is easy to install and operate and its operation is continuous.
8. It occupies small space
9. It is easy to maintain and clean.
10. It is inexpensive
11. Its ease of manufacture allows easier local construction.
Disadvantages of Hammer Mill
1. Not recommended for the fine grinding of very hard and abrasive material due to excessive wear.
2. Not suitable for low-melting sticky or plastic-like material due to heat generation in the mill head as a result of mill fouling.
3. The mill may be choked if the feed rate is not controlled, leading to damage.
4. Presence of foreign materials like stone or metals which finds its way into the material due to inadequate garbling process
5. There is a possibility of clogging of the screen.
References
Ahmed F. Abdel-Magid, and Stéphane Caron (2006). Fundamentals of Early Clinical Drug Development: From Synthesis Design to Formulation. John Wiley and Sons, Inc., Hoboken, New Jersey.
Jack Zheng (2009). Formulation and Analytical Development for Low-Dose Oral Drug Products. John Wiley and Sons, Inc., Hoboken, New Jersey.
Leon Shargel and Isador Kanfer (2014). Generic drug Product Development: Solid oral dosage Forms. Taylor and Francis Group, LLC.
Martin J. Rhode (2008). Introduction to Particle Technology. John Wiley and Sons Ltd, Chichester, West Sussex, England.
Sarfaraz K. Niazi (2009). Handbook of Pharmaceutical Manufacturing Formulations: Semisolid Products. Informa Healthcare USA, Inc., New York.
Sud Sushant and Kamath Archana (2013). Methods of Size Reduction and Factors Affecting Size Reduction in Pharmaceutics. International Research Journal of Pharmacy. 4(8): 57-64.
Swain A.K, Hemlata P. and Roy G.K (2011). Mechanical Operations. Tata McGraw Hill Education Private Limited, New Delhi.