From my experience, sourcing for the right pharmaceutical machines in China can be an overwhelming task. Many companies lose thousands of dollars when importing pharmaceutical machines.
This can be in the form of substandard machines, lack of technical support or doing business with fraudulent companies. I do not want you to be a victim of such circumstances.
Today, I am going to share with you 10 practical tips on how to source for pharmaceutical equipment from China.
Let's go straight to these essential tips:
1. Research & Identify a Reputable Pharmaceutical Machine Supplier
Frankly, this is one of the most challenging tasks. Your success or failure in the pharmaceutical industry will start from this stage.
So, how can you go about it?
Let's start with the obvious one – simply use the search engine.
Use Google or Bing to Identify Pharmaceutical Equipment Manufacturers
Once you key in an appropriate search term, a list of companies will appear as the search results. Some of the most common search terms to use may include:
"Pharmaceutical machine manufacturer" + "China"
"Pharmaceutical machine supplier" +"China"
"Best pharmaceutical machine manufacturer" + "China"
What appears as your search result?
Here is what I have for the search term "Pharmaceutical machine manufacturer" + "China":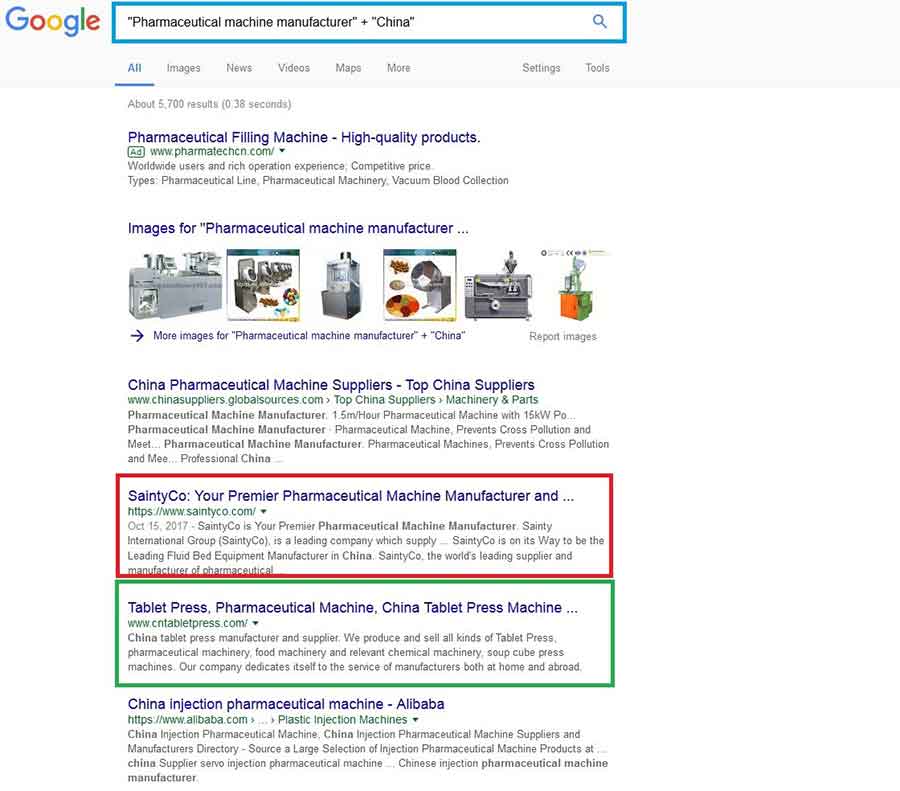 Results I retrieved on 12/27/2017
You should strive to deal directly with the original manufacturer of the pharmaceutical equipment. It is important to sample at least 10 companies for this.
Next, you can consider option two:
Consider Exhibitions or Trade Fairs
Alternatively, you can visit a trade fair to interact with pharmaceutical machine manufacturers. In most cases, only genuine and reputable companies will attend these shows.
Attending these shows is worth it, especially if you need expensive pharmaceutical machines. You can get details about these trade fairs on the following websites:
China Exhibition is one of the best places to get details of upcoming exhibitions in China. For instance, here is a screenshot of my search results: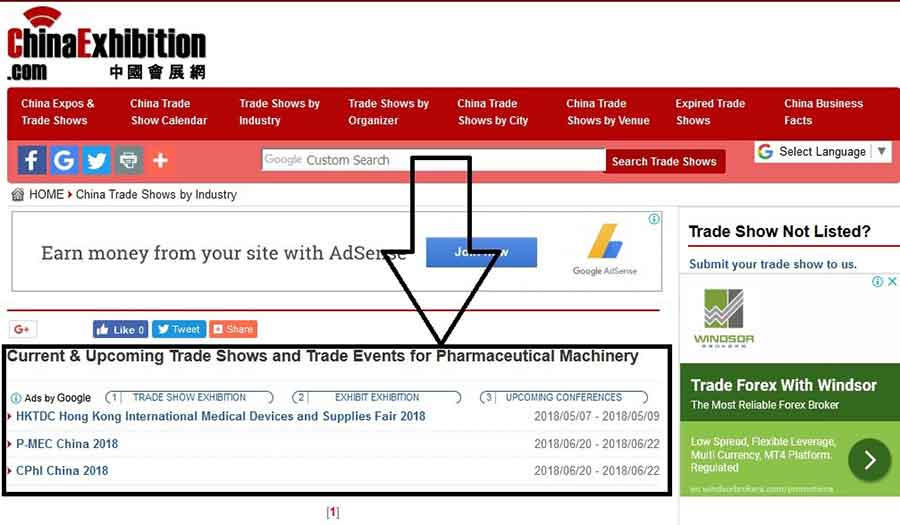 Retrieved on 12/27/2017
Apart from this, another option is:
China International Pharmaceutical Machinery (CIPM) Exhibition
This is one of the largest trade fairs for pharmaceutical equipment and machinery. It is the China Association of Pharmaceutical Equipment (CAPE) that organizes the CIPM trade fair.
Certainly, by attending these shows, you can meet genuine and original pharmaceutical equipment manufacturers.
Get a Representative in China
Well, this is a viable option. You can have representatives in any of the following places:
Kunshan, Xuzhou and Changzhou in Jiangsu province
Shanghai
Jinhua, Rui'an, Wenzhou and Ningbo in Zhejiang province
Tai'an, Jinan and Qingdao in Shandong province
These are the main places where you will find companies that manufacture machineries. So, if you have a representative there, chances of getting reliable and reputable supplier is very high.
Let me tell you the truth, China has hundreds of pharmaceutical machine manufacturers. Therefore, you must be cautious to avoid instances of doing business with a fraudulent company.
To be honest with you, there is no current or updated list of fraudulent Chinese companies. So, you must go through the difficult task of identifying these companies.
Here are top three factors to consider when evaluating the Chinese pharmaceutical equipment manufacturers:
a. Proper documentation that is verifiable
Quite a number of Chinese companies displaying their documentations or certifications on their websites. Do not be deceived by all this information.
Most of them are intelligently photo shopped. You need a high level of skills and expertise to authenticate the documents.
You should verify the license, quality control/analysis/assessment reports, ISO certification, etc. Just spend an extra buck and time to ensure everything is done right.
b. Avoid companies that use personal bank accounts
Even the Chinese laws do not allow registered companies to make transactions through personal accounts. You should transact only via the business account of the company.
With the company's license, it is easy to verify that the business account belongs to the pharmaceutical machine manufacturer in question.
Again, you should avoid companies that insist on using Western Union. Quite a number Chinese scammers like Western Union since it is easy to get away with the money.
c. Pharmaceutical machine price
Price is also an important aspect whenever you are choosing pharmaceutical machine supplier from China. There is a difference between price competitive and extremely low prices.
I know this may sound funny.
Avoid companies with very cheap pharmaceutical machines. Most of them do not meet the right quality standards.
Finally, do you know that most big brands have their own distribution channels as opposed to online marketplaces? Well, this is why I do not recommend searching for a Chinese pharmaceutical machine supplier on various marketplaces.
Do all your business from their official website.
With all these in mind, I am sure you will probably get a pharmaceutical machine supplier in China you can trust. But this is not enough.
Let's move to yet another critical aspect.
To continue reading, click on the page buttons below…