2. Be Specific on the Pharmaceutical Machine Features and Technical Specifications
I will not lie to you, in China you can get virtually any type of pharmaceutical equipment and accessories.
Whether you want standard designs or turnkey solutions for your pharmaceutical industry, there is always that machine that will do the job right.
From my experience, pharmaceutical machine suppliers in China are keen on features and technical specifications. Once you provide exact features and specifications, you can get the machine within the shortest time possible.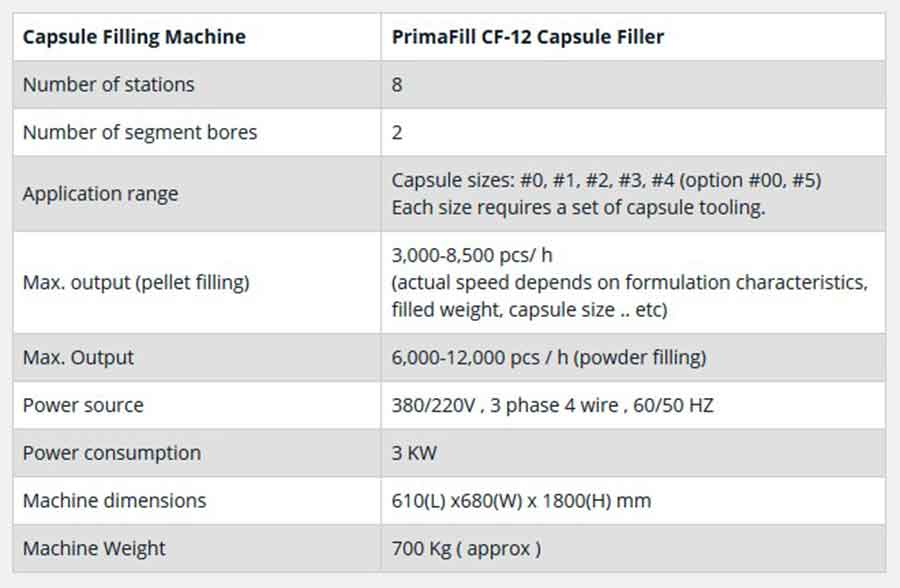 Technical information – Photo credits: SaintyCo Capsule Filling Machine (PrimaFill)
For example, suppose you want to buy a pharmaceutical machine, it is important to specify the following:
Production capacity/output capacity
Type/nature of the final product
Automation and control system specifications
New technology
Power consumption
Size (length, width, height and weight), etc.
This way, you will get the right pharmaceutical machine.
Read Also: List of Pharmaceutical Companies in India
3. Does the Pharmaceutical Equipment Manufacturer or Supplier Offer a Warranty
A warranty is a clear indication that the company trusts its pharmaceutical equipment and accessories.
However, the main question is whether the Chinese companies abide by the warranty terms. Honestly, quite a number of companies use the "warranty" as a sales gimmick.

Warranty will vary with type of machine
In fact, they may claim to offer 12 to 24 months warranty, which may not be the case.
This is how to go about it:
Use my tip #1 to get a reputable pharmaceutical machine supplier. Such companies respect the terms of their agreement with the client.
Don't rush over the warranty terms and conditions, read every aspect of it. I know most people ignore this, yet it is very important.
Chinese companies value long-term cooperation. When you work towards this, there is no way a Chinese company will not honor the warranty. In fact, they will do more to guarantee customer satisfaction.
Here is the secret there are hundreds of pharmaceutical machine manufacturers in China. Therefore, every reputable company is striving to maintain its clients and long-term cooperation as much as possible.
A product warranty provides a cost effective and time saving way to sort out any problem with the pharmaceutical equipment.
To continue reading, click on the page buttons below…