To prevent segregation of powder, prepare material for compression or improve flow characteristics, you need high quality rapid mixer granulators.
Finding such a machine is not an easy task. It is for this reason that I want to highlight fundamental aspects you must consider when importing high mixer granulators.
But before that, let me make one point clear:
In most cases, you will find people referring to rapid mixer granulators as:
High shear granulators
High shear mixer granulator
High shear mixer.
All these refer to the same machine.
Now, let's go straight to the main subject of this rapid mixer granulator importing guide.
Factors to Consider Before Importing Rapid Mixer Granulators/ High Shear Mixers
Whenever you want to import pharmaceutical machines such as rapid mixer granulators/ high shear mixers, there are some obvious things you must consider. These include:
Identify reputable and trusted rapid mixer granulator manufacturers.
Shipping and logistics such as mode of shipment, taxes, shipping cost, etc.
Quality inspection and certification such as ISO, cGMP, CE, ASTM, etc. depending on your geographical location.
Machine warranty, which may vary from 1 to 2 years, depending on your manufacturer
Availability of spare parts and local representatives who can help repair machine
Maintenance and technical support
Whether the manufacturer installs and commissions the machine or not
For the purpose of this article, I will deviate from these. Instead, the main focus will be on individual specifications that affect the working and productivity of the agglomeration process.
You must pay attention to these three critical aspects to save on your limited resources and optimize the granulation process.
These are what I am talking about:
1. Evaluate the Design of Rapid Mixer Granulator
You need to evaluate the overall design of the rapid mixer granulator. This is because it will affect the efficiency of the entire process.
Evaluating the design must include all parts such as (not limited to these):
Granulation container or drum
Impeller design
Chopper design
Sealing mechanism
Drive mechanism
Granules discharge
Machine frame and structure
Granules milling
Spraying nozzle
Electrical and control panel
Before you import a rapid mixer granulator, your manufacturer should have an explanation why they have a specific design for a component. More importantly, investigate whether such designs will optimize the granulation process.
At any point, the high shear granulator should have an ergonomic design that optimizes performance.
Let me give you an example:
a. Structure and Frame of the Rapid Mixer Granulator
Quite a number of manufacturers opt for 316 SS for all parts that are in contact with the product. On the other hand, they may go for 403 SS for other parts.
This is an important criterion as part of the cGMP compliance.
b. High Shear Granulator Impeller
Should you go for a three-blade or a two-blade impeller design?
Well, here are a few things I can highlight in response to this:
Three-blade impellers will require high rotational speeds that can result in thermal stressing. At the same time, it will produce dense granules.
Two-blade impeller that has elongated side wings ensure rapid mixing though at low rotational speeds.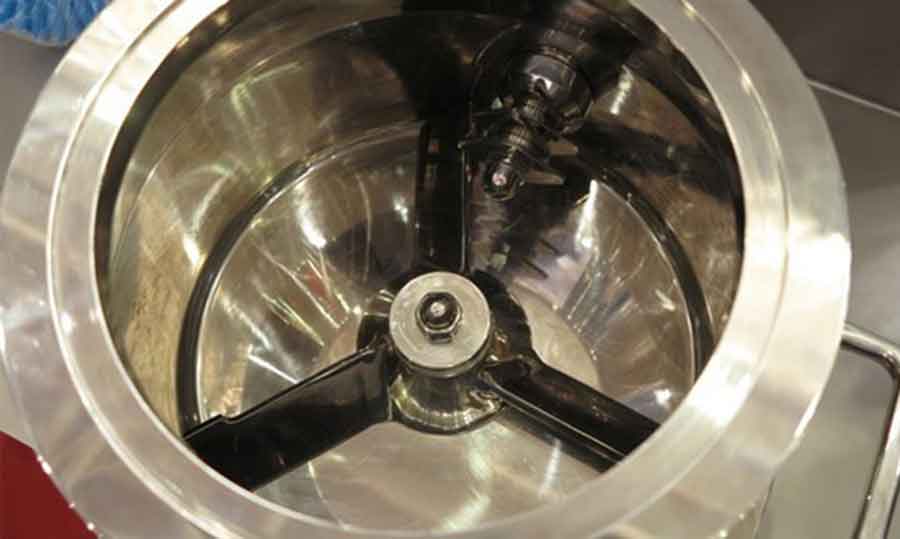 Impeller and chopper design
Other aspects here may include position and rotating speed of both the chopper and impeller.
In short, the design of every component and part of high shear mixer granulator will affect performance, efficiency, safety and reliability of the machine.
Therefore, it is the first thing you must evaluate. In case the manufacturer cannot explain the reason for opting for a specific design, just avoid that rapid mixer granulator.
Honestly, a newbie in the material granulation process may not do this effectively. Therefore, you should hire a technician or learn more about high shear granulating machines.
2. What New Technology Does the Rapid Mixer Granulator Feature?
Today, many manufacturers of high shear mixer equipment use the words "feature new or our patented technology" as a sales gimmick. They will hardly mention these technologies.
On this you must be cautious.
Frankly, technology improves the rapid mixer granulator working principle. Whether you opt for vertical high shear granulator or horizontal high shear granulator, technology will still play a critical role.
With a high shear mixer granulator that has an appropriate technology, you will produce granules with the right porosity, shape, density and size.
It is this simple, let the manufacturer mention the so called "patented or new technology". They should go ahead to explain why it is the best.
Meanwhile, let's have a quick overview of some technologies that improve performance of rapid mixer granulators:
a. Automation and Control Panel
These are microprocessor based systems that control all the vital operations of the high shear granulators. Some of the main critical aspects include:
Controlling the drive system of the high shear granulator. These may include chopper and impeller speeds.
Timing how long granulation should take place; this includes mixing and spraying process.
Interlocking machine system for safety
Auto shutdown of machine
Monitor temperature and pressure of the machine
Auto lubrication system
System diagnostic procedures, etc.
Most control systems have LCD touchscreen HMI systems. Technicians can monitor and control essential parameters of the machine via the panel.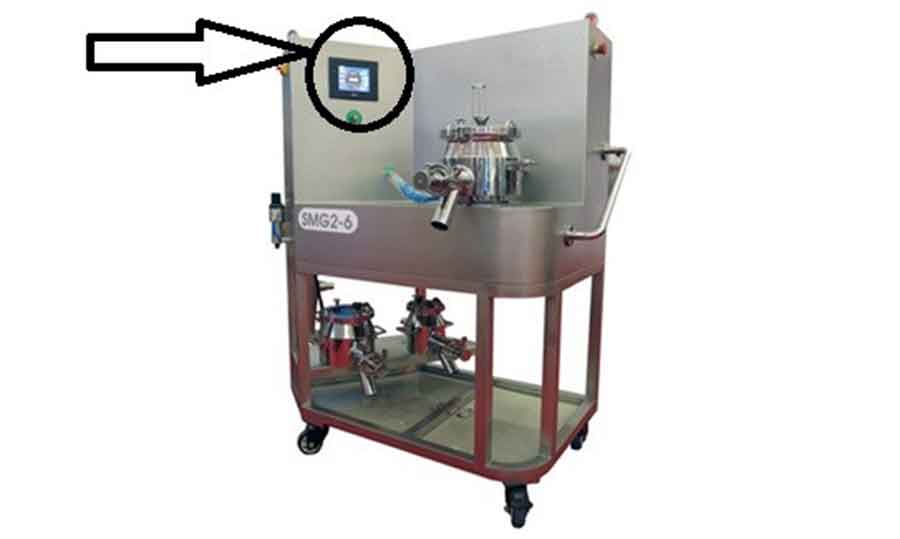 Control panel for a high mixer granulator
They feature either Allen Bradley or Siemens PLC control systems. Furthermore, there are companies that have their own custom made control system and software.
b. Process Data Accessibility
Monitoring data via the HMI may not be enough. There are rapid shear granulators that feature USB port allowing for easy export of process data.
You can then print the batch granulation data.
c. Vacuum Transfer System
Some rapid high shear granulator machines feature vacuum transfer system. They use it when charging and discharging material into/from the rapid shear granulator.
It is an efficient and a reliable transfer mechanism.
In short, you should import high shear granulation machine that features modern technology if you want to optimize your process operations.
3. Evaluate the Technical Specification of High Shear Granulator
From this information, you will know the production capacity of the machine. You can get this information from the technical manual or product catalogue of the high shear mixer machine.
I recommend that you choose a machine whose production capacity is slightly higher that your current production needs. This will allow for easy expansion or upgrade.
Some of the most common technical parameters of a high shear mixer may include dimensions, hopper, impeller, rotor, motor and granulation specifications.
Therefore, do not buy a machine without verifying this information.
Technical specifications
Apart from all these three aspects, you should identify the benefits which the machine will guarantee in your material processing. Definitely, by evaluating the design, technology and technical specifications of high shear mixer, you should be able to list some benefits.
These may include:
Automated system with easy to use HMI
Variable chopper and impeller speed
Guarantee machine and technician safety
Easy to clean, maintain and repair
Reduce downtime and maintenance costs
Ability to view and customize process data
Produce granules of various sizes, densities, etc.
Basically, all these will depend on the three factors I have highlighted above.
Conclusion
High shear granulation machine play an instrumental role in agglomeration of powder particles either for further processing or as final product. It is an essential machine in the pharmaceutical industry.
The main factors to consider when importing rapid mixer granulators include design specification, technology and technical parameters. Evaluating all these factors is systematic and slow process that requires patience alongside an in-depth knowledge of the powder granulation process.
Further Reading
About the Author
Hey , I am Tony , General manager of Saintyco and expert in pharmaceutical equipment industry for over 20 years, I would like to share my experience in the field. Saintyco is a leading pharmaceutical machinery manufacturer ,We can provide you one stop solution for all your pharmaceutical equipment requirement.If any questions, freely to reach me,I will try my best to give you good advice and solution.
Related Keywords: rapid mixer granulator diagram, rapid mixer granulator impeller speed, rapid mixer granulator slideshare, rapid mixer granulator parts name, rapid mixer granulator advantages and disadvantages, rmg machine parts, rapid mixer granulator images, construction of rapid mixer granulator